Buick 1971 - Buick 1971 Introducing a New Set of Values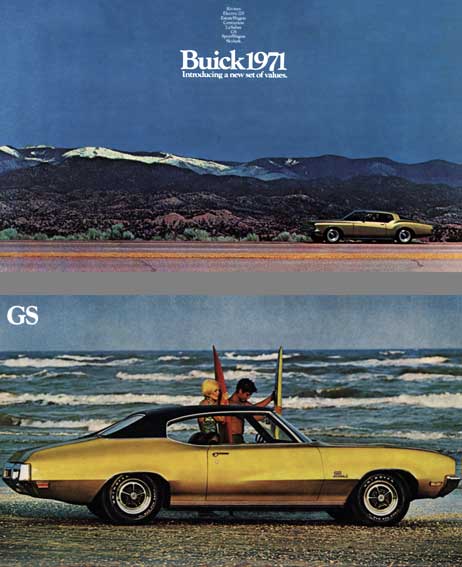 48 page all new reprint; digitally restored from the original source and printed on high quality 8.5" x 11", 32#, 97 bright acid free paper in Color, assembled into an individual item that is folded and stapled, or heat bonded with an adhesive fabric binding.
Contents - Index:
Buick 1971 - Buick 1971 Introducing a New Set of Values
General Motors Corp
Buick Div
General Information
Interior & Exterior Images
Riviera
Riviera GS
Maxtrac
Electra 225
Electra 225 Custom Limited 4 Door Hardtops
Electra 225 Custom Sport Coupe
Estate Wagon
The Buick Estate Wagon
The 1971 Buick Estate Wagon Glide Away Tailgate
Centurion
Centurion Formal Coupe
Centurion 4 Door Hardtop Sedan
Centurion Convertible
AccuDrive
LeSabre
LeSabre Sport Coupe
LeSabre Custom Convertible
LeSabre 4 Door Sedan
LeSabre Custom 4 Door Hardtop Sedan
Buick GS
GS 455 Sport Coupe
GS Convertible
SportWagon
The Buick SportWagon
Nickel Plated Valves
Skylark
Skylark Sport Coupe
Skylark 2 Door Sedan
Skylark Custom Convertible
Skylark Custom 4 Door Hardtop
Skylark 4 Door Sedan
Options and Accessories
1971 Buick. Something to believe in.