Rolls Royce 1923 - Ten Years in a Day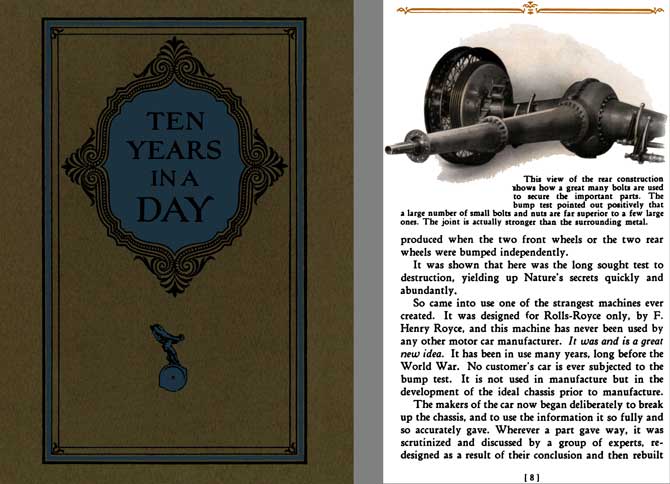 16 page all new reprint; digitally restored from the original source and printed on high quality 8.5" x 11", 32#, 97 bright acid free paper in Color, assembled into an individual item that is folded and stapled, or heat bonded with an adhesive fabric binding.
Contents - Index:
Rolls Royce 1923 - Ten Years in a Day
Rolls Royce Ltd
Ten Years in a Day - A Description of the Rolls-Royce Bumping Test ~
The Rolls-Royce Bumping Test Machine at Derby, England Image
A Remarkable Story Now Told For The First Time
A Story Never Told Before
One of the great lessons of the bump test was to show that ordinary rivets were useless.
The Machine that Re-Designed the Rolls-Royce
Image of the Frame's Tubular Cross Member and Front Diagonal Brace
This view of the rear construction shows how a great many bolts are used to secure the important parts.
The unique radiator suspension is one of the many details developed by the bump test.
Another extremely interesting detail developed by the bump test is the use of serrations for securing parts.
In a Rolls-Royce one can venture far from civilization, and have no fears.